Tiny Houses werden gerade unglaublich gehyped. Auch wenn das Leben in einem Mini-Haus nichts für mich und meine Familie wäre, finde ich das Konzept spannend. Noch spannender finde ich es, wenn eine Familie mit 3 (!) Kindern beschließt, sich ein Tiny House zu bauen und darin zu wohnen. So geschehen bei Francois und Sarah-Lee von Le Workshop aus Neuseeland. Wie kommt man als Großfamilie darauf, sich ein Tiny House zu bauen (und dann noch so ein schönes!) und darin zu wohnen? Da musste ich unbedingt mal nachfragen!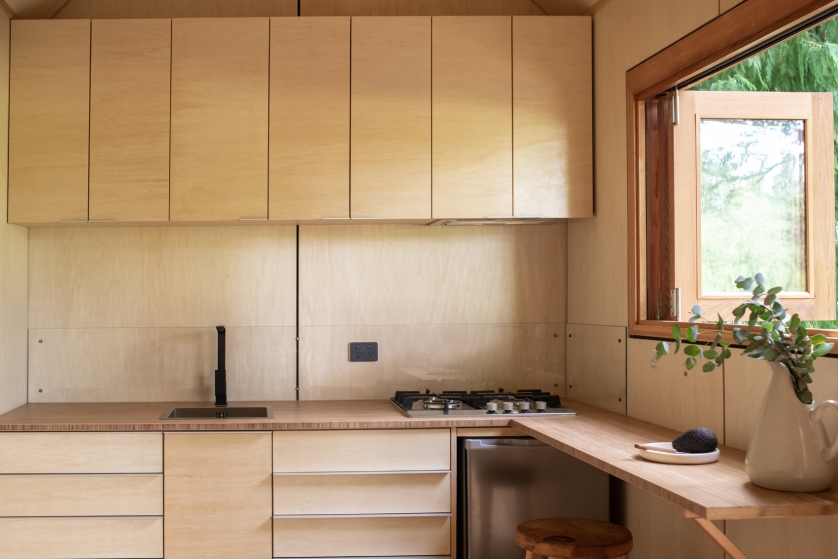 1. Intro
Le Workshop is a small space design company started up by husband and wife, Francois and Sarah-Lee Guittenit (pronounced Gi-ti-nee).
Together, we create spaces which reflects balance, beauty and simplicity.
2.Our story.
Francois grew up in France. At the age of 15, He was selected to attend Le Compagnon du Devoir du Tour de France -a French organization of craftsmen and artisans dating from the Middle Ages. Their traditional, technical education includes taking a tour, the Tour de France, around France and participating in apprenticeships with masters. The seven year syllabus covers everything from traditional French carpentry, Chateau restoration to boat-fitting.
Sarah-Lee grew up in New Zealand and has a BA in Art/Design. She has a background in Fashion Design and sustainability.
Francois and Sarah-Lee met nearly ten years ago in Auckland. They immediately found a deep and inspiring connection in living a meaningful, engaged and creative life and complement and complete each other with their skillsets, interests and background influencesThey live in their Tiny House in Hawkes Bay, New Zealand with their three children; Poppy (10), LouLou (7) and Francis (5)
 3.What we feel is important in small space design.
When we craft small spaces, it is important to build around needs. Spend time observing, rituals and habits, these identify what is important to you.
A domestic space should make one feel 'at home', a sense of belonging in reflected values. Components such as atmosphere, peace, and beauty may be immeasurable but are essential to creating an evocative space where one can be fully present.
It's fascinating to work out how to create emotional connection through a physical place. Small space design also requires a certain elasticity, a multi-functional component personalised to the user(s).
Key areas of influence we focus on include:
∙ The Connection the building has with the land -geographical features, social/cultural connections
∙ Natural lighting
∙ Layout – either opens up or space or draws it in
∙ Paint colours
∙ Fabrications
∙ Plants for aesthetics and air quality
All these woven together with intention, should create personal identity in a space.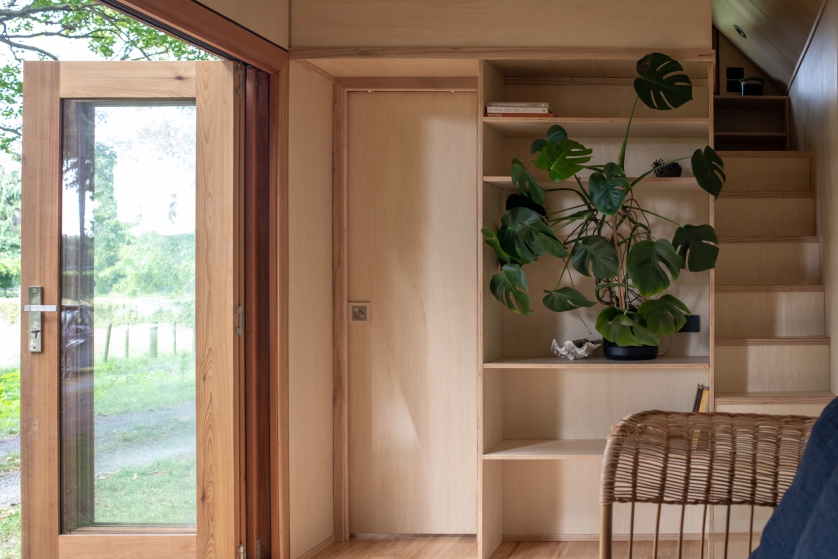 4.How we have incorporated values of sustainability and self-sufficiency into our Tiny House.
Our tiny house is 21 square metres, and took four months to build and cost around $50,000 for materials.
A core philosophy with tiny house living, is that you would live, according to your needs.
In terms of energy usage, the smaller the space, the less you need.
The smaller the build, the less product, energy and finance consumed.
You also consume less goods, and when you do purchase something, it is considered and valued.
In construction, we have used 200mm of wool insulation, Low-E, Argon-filled glazing and the house is north-facing. These are simple design details of passive house design which reduce heating requirements.
We have a composting toilet system which environmentally creates a closed circuit system rather than depending on outsourced chemical-based procedures. On average, new Zealanders flush down 86litres of drinking-quality water a day. And that's just toilet use.
5. Compact living
We chose to live in a tiny house, simply because we no longer wanted to be in the rental market, we wanted to own our own home but not bite off a $500,000 mortgage. We also have children, and wanted to spend the next decade or two focussing on family over finance.
We have found compact-living amplifies what already exists. If you focus on creating a life of peace, connection and honesty, these values are emanated in your home-life. On the other hand, if there are unresolved issues or relational stress, there's nowhere to hide. It is an honest and open space and we find that beneficial in creating a vulnerable and authentic life.
We encourage our children to connect and find space in nature, we have 1/3 acre of land and the children are most happy creating outdoors in the original 'playstation'.
For Francois and I, we work from home and have five workshops on our land, these are for, woodwork, small-space design, beekeeping our 200 hives, Sarah-Lee-s pottery studio, and a craft studio for the children -'Le Petit Workshop'.
We like the balance of a tiny house, big workshop, rather than the other way 'round. Our workshops are busy, slightly chaotic spaces with high energy, our home is a calm and collected space of rest and unity.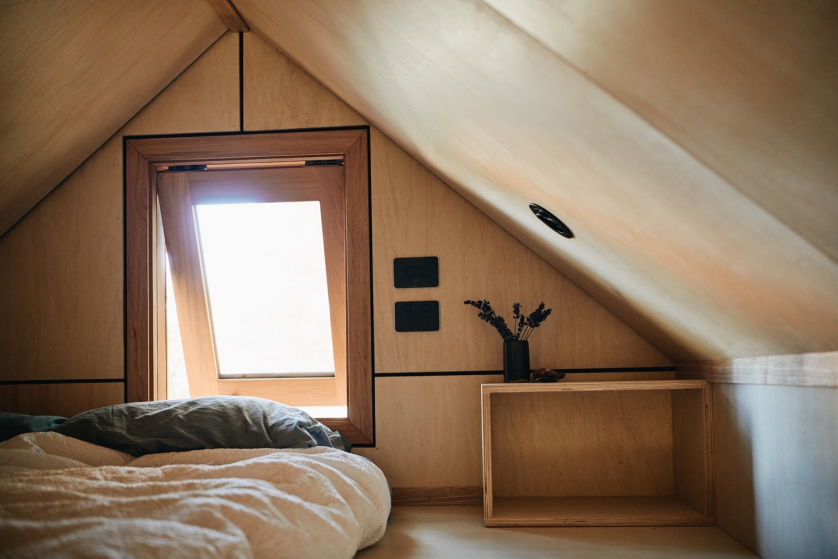 6. The challenges of tiny house living.
Living anywhere provides challenges; physical, emotional or financial, It is important that you weigh up those challenges to find what works for you. For
For us, the physical challenges are that we rely on good weather for our larger communal gatherings. Emotionally, you need to 'keep your love on' to keep the peace.
7. On the sense of freedom that minimalism offers.
Physically, the bigger the space: the more impersonal it becomes, the more finance you must make (or borrow and live indebted as we do these days) and the more there is to maintain and insure.
Small space living ideally, should reflect the values of slow-living: simplifying our lives to cultivate community and redeem time for what matters most to you.
8. Encouragement for those looking at Tiny House living.
Absolutely, that may not look like tiny-house living for everyone, but there's a certain amount of intentional pruning and cultivation in areas of our lives that can bring focussed growth and clarity of values and life purpose. And remember, our lives are lived in seasons, perhaps living in a tiny house is just a stepping stone for a year or two.
9. Tiny Houses and teenagers – how does that work?
Tiny House living has definitely been seasonal for us, our eldest daughter Poppy is ten now, and we are thinking ahead to the next season where we can accommodate for personal space for her to reflect her own identity.
10. Any funny/awesome/weird memories?
One of the best memories was last year, it was a winter evening, we were all inside and decided to play a game of indoor hockey. We didn't have much space, but we used what we had, and found so much joy.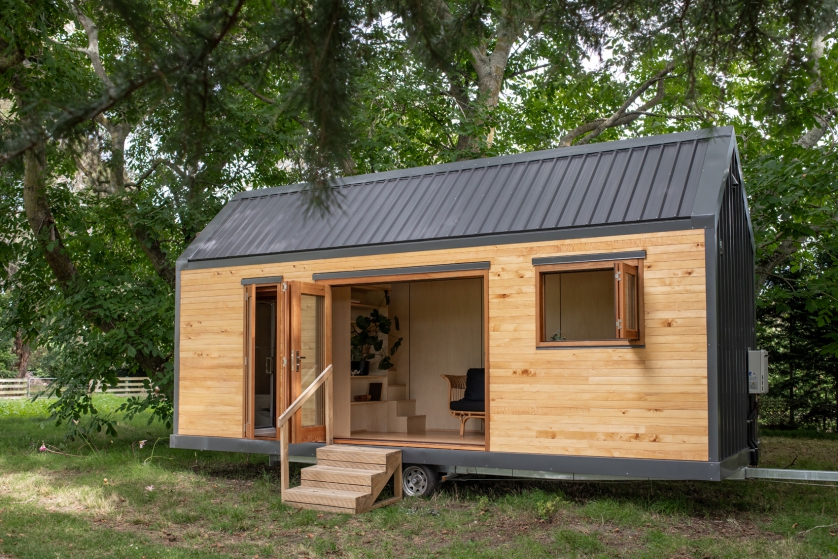 Die ganze Hometour, inkl. der pfiffigen Lösung fürs Kinderzimmer, gibt's hier zu sehen!
instagram @sarahleeandfranky